Skip to Content
Pick an Awe-Inspiring Awning for Your Business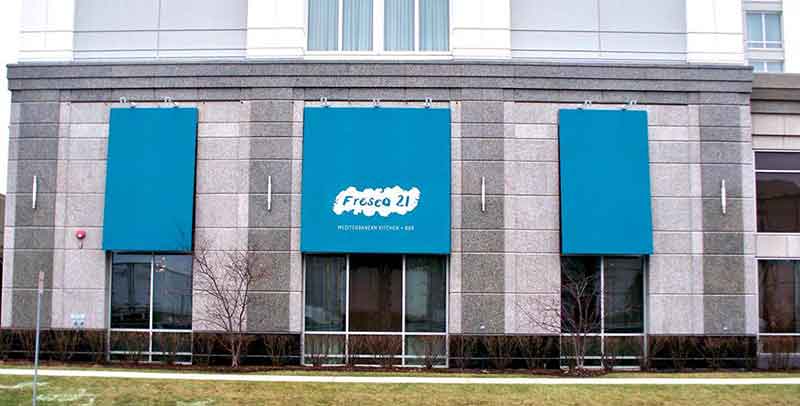 An outdoor sign installation or awning installation is a valuable way to attract customer attention and advertise your business services. When you visit your local sign company to design your commercial awning, you should make sure your lettering, colors, and logo are as effective as possible. Here are some great tips for designing an awe-inspiring awning for your business.
Market Your Company's Brand
You can use your commercial awning as an outdoor sign that markets or promotes your company's brand. Your brand is the combination of graphics, fonts, colors, and slogans that makes your business and its services quickly identifiable and distinct from other businesses. Make sure that you ask your sign company to incorporate your branding into your awning design so your brand will become more recognizable to your demographic.
Choose the Right Awning for Your Needs
Commercial awnings can be used as advertisements and as shade for outdoor patios or seating areas. The purpose you want your awning to serve will factor into the type of awning you choose. An awning that is purely being used as an exterior sign should be weather-resistant and large enough to be read from a distance. A patio awning can be retractable so that it won't have to be in use at all times. This type of awning will need to be larger, and created from weatherproof material.
Determine Where Your Awning Should Be Placed
An awning that is being used purely as an outdoor sign can be placed over a window or entryway on the most visible part of the building. You can also install retractable awnings over patios to protect guests from wind, rain, and sun.
If you're interested in awning or sign installation near Chicago, IL, come see us at Olympic Signs. In addition to awning design, fabrication, and installation, our sign company also offers exterior and interior sign fabrication, sign installation, sign repair, and sign maintenance. To learn more about our affordable, quality commercial signs and awnings, call us today at (630) 413-1198.